What is Virtual Reality?

The demand for virtual reality is exploding these days. The gaming companies primarily started this technology, but it has now spread into several other industries like the military, healthcare, and education. This article explores what is virtual reality and what are VR Applications?
The current evolution has opened countless doors of opportunities for virtual reality developers. They now work on bringing the most innovative advancements in the present technological advancements. But before we answer the question 'how to become a VR developer,' we need to get virtual reality a little better.
What is Virtual Reality?
VR or virtual reality is a computer-generated simulation. In VR, a person is able to interact with a three-dimensional artificial environment using a head-mounted display (HMD). The device is a kind of special goggles usually with a screen or gloves with sensors fitted in it.
The user can experience real feelings in this simulated artificial environment. The VR concept is built on the combination of two words that is virtual and real. The former meant 'conceptually' or 'nearly,' which leads to experience something near to reality by using technology.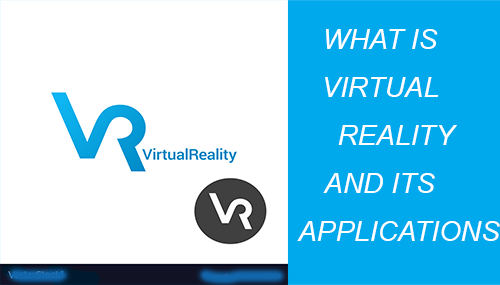 How To Become a Virtual Reality Developer?
You need to know the following details if you want to step into the world of virtual reality development.
Academic Requirements
In order to get an entry-level position as a VR developer, formal education is not really needed. However, having a degree in a related field certainly gives an edge to your job request. Employers prefer hiring candidates with a degree in software engineering or computer science.
You get an excellent uplift if you have studied game development courses or courses from simulated physics or mathematics.

Professional Requirements
VR is a complex and rapidly developing domain which means it entails constant learning and a lot of practice. You must learn basic coding knowledge and some experience, preferably with design and development software in 3D. Start learning Java, C++, C sharp, and other similar languages. Unreal or Unity are the two major virtual reality development platforms.
You need proficiency in them too. There are various free and low-cost virtual reality online courses on these; you can benefit from them. If you live in a developed area, try attending tech conferences and meetups to learn better about the VR industry and network with other virtual reality developers.
In these tech events, make sure to pay attention to the latest examples of VR technology and tools as much as you can. It will keep you updated, enhance the feel for VR, and help you in developing creative ideas of how to make improvements.
In short, you need expertise in
Software engineering
3D tools
Sound design
VR UX/UI
Out of the box thinking
Personal Qualities
To become a successful virtual reality developer, proper education and skills are just not enough. You must be passionate about your qualities and skills that help you in performing your job well. A VR developer must be:
Creative to come up with innovative ideas to implement in VR programs.
Problem-solving to access and address if any problem arises as the entire process of development is the responsibility of the developers.
Interpersonal to communicate and work well with others working on a similar project.
Analytical to develop an effective program by analyzing the needs of the target audience.
Job Market For VR Developers?
IT and software development work are extremely competitive. A very important thing to consider if the VR market is just as competitive or not. Fortunately, it is not much competitive currently.
Due to the prevalence of technology and more and more organizations implementing it as part of their product lines and normal processes, the demand for virtual reality developers is increasing.
This does not mean that VR is an easy field to get into, as you cannot directly jump into any of the VR careers with less or no experience and knowledge. You can start your career by having direct experience in working with technology and developing successful software and apps.
In the career field of virtual reality, things are pretty much similar to software development. The positions include:
Product management
VR content writers
Content producer
Software engineer
Quality assurance
UI and UX design, and many others
The salary of a VR developer varies, but it is highest right now due to the demand. As the development in VR is in its early stages, qualified developers are hard to find. However, with the growth in industries, more and more developers will try to get VR expertise.
The salaries also vary from country to country. In the U.S., the salary of entry-level VR web developers is $104,000 annually. In Canada, the average entry-level career salary is $49,300; in the UK, it is $44,800, and in Germany, it is $61,500 a year.
The Future of Virtual Reality in 2021 and Beyond
VR is among the technologies with the highest projected growth potential. As per the prediction of IDC research in 2018, the investment in VR by 2022 will multiply 21x, reaching 15.5 billion euros, and it will be a $38 billion industry by 2026.
Also, VR will be the key to the companies' digital transformation plans, and their budget in this area will maximize compared to the consumer sector by 2019. No wonder many European companies adopted VR strategy in 2020.
Many big technology companies are already working on portable headsets that allow images to be seen in HD quality. Companies are developing VR headsets in 8K having much more powerful processors.
In upcoming years, developers will work on integrating Artificial Intelligence. The evolution of VR gets interesting scenarios with the latest 5G standard, allowing the faster transition of data to mobile devices. This standard lets large user communities and more devices be connected.
Moreover, consumers will be able to receive real-time images due to the imperceptible latency of virtual reality in the future; it's like seeing images with your own eyes.
Not to forget, the headsets will become affordable with better display and lighter in weight.
We will see applications in agriculture, marketing, and healthcare, etc.
All this discussion means that now virtual reality is no more science fiction. It is integrated not just into the present but will be bigger and better in the coming years. In simple words, the advancements in virtual reality will shape the future.
Future Applications of Virtual Reality
Virtual reality is being used in several sectors today. From guided museum to the muscle dissection, virtual reality let us reach the boundaries that otherwise would be unimaginable. Some of the examples are discussed below:
Healthcare: Professionals in healthcare use virtual models for practice. VR is also used in burn injuries for pain relief, treating mental health issues, and many more. VR has the therapeutic advantages of spending time using it.
Automotive Industry: VR allows vehicle manufacturing brands to experiment with the vehicle's build and look before the commission of expensive prototypes.
Retail: Body-scanning feature of VR will allow consumers to try clothes in the virtual world to check if the product, such as the dress they are ordering online, fits them or not.
Tourism: With VR, you can go to virtual guided tours of tourist landmarks, restaurants, and hotels. It will also help you decide the vacation site by virtually visiting that place.
Education: VR enables students to learn in an experimental and immersive way. It helps to build a VR meeting room or classroom space where people around the world can have lectures.
Entertainment: In the entertainment industry, VR is used to increase experiences with 360 films and emotional connection with the characters. Disney Movies VR will take the viewer to the red carpet events or interview a movie cast.
Learning Resources for virtual reality
In Summary
The technological world of virtual reality is exciting and amazing. Many industries, especially the eLearning industry, are excited about VR development and look forward to seeing how it contributes to future technology development. The technology has application in almost all fields, making virtual reality developers the stars of today and tomorrow.
Though the learning curve is steep but if you are passionate and ready to invest your time, go ahead because the future belongs to VR.
Related Articles
Previous Article
Next Article